Black Locust Honey Cupcakes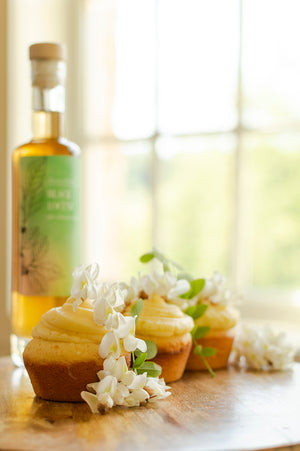 Black Locust Buttercream
1 cup butter, room temp
4 1/2 cups confectioner sugar
1/4 cup whole milk or heavy cream, room temp
1 1/2 tbsp honey (pref. black locust honey)
5 tbsp Lindera Farms Black Locust Syrup
salt, to taste
With a handheld or stand mixer, whisk the butter until creamy.
Add in sugar, milk/cream, honey, and syrup and mix until well combined. 
Note: If the buttercream is too thick or thin, add more cream or sugar respectively one tablespoon at a time. If the buttercream is too sweet, add a pinch of salt to taste.
Honey Cupcakes

1 1/2 cups all-purpose flour
1/2 tbsp baking powder
1/4 tsp salt
1 cup granulated sugar
1/2 cup (1 stick) unsalted butter, room temp
2 large eggs, room temp
1/4 cup plus 2 tablespoons honey (pref. black locust honey)
1 tbsp vanilla extract
1/4 cup Lindera Farms Black Locust Syrup or Honey & Chamomile Syrup
1/2 cup whole milk
Pre-heat oven to 350F.
Combine flour, baking powder, and salt.
In a separate mixing bowl, combine honey, syrup, and milk.
In a third mixing bowl, cream together butter and sugar.
Slowly add in wet and dry ingredients, alternating between the two.
Once mixed, add in eggs one at a time. 
Scoop batter into a cupcake tray with liners in place to prevent sticking.
Begin checking the cupcakes after 16 minutes and remove from oven when a toothpick or fork comes out clean.
Allow to cool before icing and decorating.
 Note: If butter and sugar do not cream properly, beat eggs until airy prior to adding them to batter. This will give the batter the air it was meant to get from the creamed butter and sugar.
Show us what you made on Instagram @LinderaFarms with the tag #LinderaMade