Candied Crab Apple Tart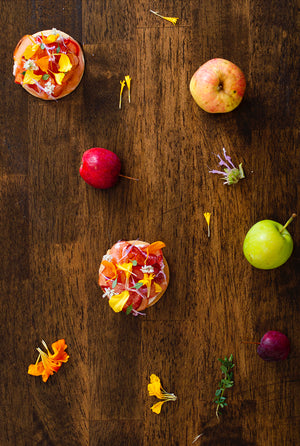 Goat Milk Buttercream:
1/4 cup (1/2 stick) butter (goat butter, if available)
40 grams semi-soft goat cheese
2 1/4 cup powdered sugar
1/4 cup goat milk
Thoroughly mix the butter and goats cheese until creamy before mixing in the confectioner sugar and goat's milk.
Beat until thoroughly whipped.

Candied Apples:
2 cups thinly sliced apples (A blend of crab apples or best apples available. Anything but Red Delicious, really.)
1 cup granulated sugar
1/2 cup Old Apple Cidery dry hard cider 
1/2 tsp salt
1 1/2 tbsp Lindera Farms Applejack Vinegar


Bring salt, sugar, and cider to boil.
Reduce to a simmer.
Incorporate apples and cook on low heat until reduced. Apples should be candied, not mushy.
Allow to cool and fold in Applejack Vinegar.
Refrigerate until ready to assemble.
Pie Crust:
2 1/2 cups (325 grams) all-purpose flour
1 teaspoon kosher salt
1 tablespoon sugar, optional
1 teaspoon ground cinnamon, optional
1 cup (230 grams) very cold unsalted butter, cut into 1/2-inch cubes (2 sticks)
4 to 8 tablespoons ice water
Add 1 1/2 cups flour, salt, cinnamon, and sugar to a food processor, pulse until combined.
Spread butter cubes throughout the mixture and pulse 6 times, until crumbly.
Scrape bowl, add remaining flour, and pulse to evenly distribute.
Move to a bowl and drizzle ice water over the mixture.
Using a rubber spatula, mix until the dough comes together.
Work the dough into a ball and refrigerate for at least 3 hours.

Roll out dough into a thin layer, then cut out circles and bake at 350 for 8 minutes or until cooked through.
(Or just buy a pie crust)

For garnish, we used:
Bee Balm
Queen Anne's Lace
Marigolds

If the above aren't available to you, good alternatives include:
Marjoram
Oregano
Lemon thyme
Basil

Assembly:
Using piping bag, pipe thin layer of buttercream onto tart rounds.
On top, form a small pile of candied apples and garnish with herbs and flowers.
Store in refrigerator if not serving immediately.
Show us what you made on Instagram @LinderaFarms with the tag #LinderaMade