Fresh Ricotta and Summer Berries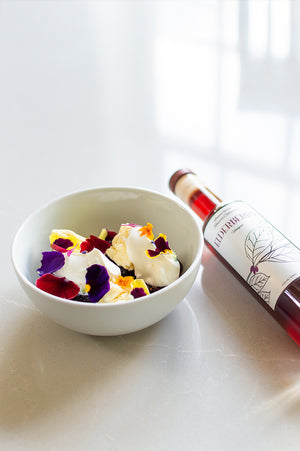 Ricotta
1 gallon whole milk (not ultra-pasteurized)
4 tablespoons elderflower vinegar
Add the milk, salt, and vinegar to a pot and bring up to 180F before removing from heat.
Allow to settle for a minute, then pour over cheesecloth and strainer, to separate whey from the ricotta. Reserve some of the whey for later.
Allow to cool and set aside.
Macerated berries
1/2 pint cherries, pitted
1/2 pint blackberries
1/2 pint blueberries
1/2 pint raspberries
2 tbsp reserved whey
6 tbsp sugar 
Mix the fresh berries with the vinegar, whey, and sugar, gently stirring to incorporate.
Cover in a bowl with plastic wrap and allow to sit at room temperature for 1-2 hours before placing in a refrigerator.
Strain and reserve the liquid before serving (this is the berry syrup mentioned later!)
Floral whipped cream
3/4 pint heavy cream
1 tbsp confectioners sugar
1 1/2 tsp elderflower liqueur
1 tsp rose water 
Incorporate the cream and sugar in a bowl and whisk vigorously until stiff peaks are formed.
Fold in the liqueur and rose water and whisk further to incorporate.
To serve
edible sweet flowers (such as violas, violets, citrus marigold, etc.)
macerated berries 
berry syrup (see above)
whipped cream
Press any excess liquid from the ricotta and tear into small chunks.
In a bowl, layer the berries with the ricotta and whipped cream, top with the edible flowers, and serve.
Show us what you made on Instagram @LinderaFarms with the tag #LinderaMade