Hamachi Kama with Paw Paw Vinegar Sauce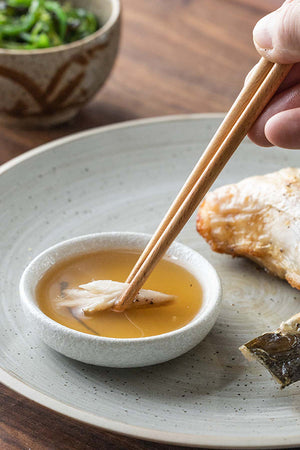 Recipe by Alan Bergo of Forager Chef | Instagram
Roasted Hamachi collar for two, with a paw paw vinegar sauce for dipping.
Serves 2
Ingredients
1 5 oz Hamachi, steelhead, or salmon collar
Kosher salt and pepper
2 teaspoons cooking oil
Paw Paw vinegar Sauce
¼ cup paw paw vinegar
1 tablespoon mirin
1.5 teaspoons fish sauce
¼ teaspoon salt
1 tablespoon mild honey, warmed

Paw Paw Vinegar Sauce
Preheat oven to 450 F. 

Whisk all ingredients in a small bowl and reserve until needed. Hold the sauce at room temperature.
Rub the fish collar with oil, season with salt and pepper and cook in a pan or on a baking sheet, skin-side up, for 10 minutes or until hot throughout and the meat flakes when poked.
Hamachi Collar
Remove the Hamachi kama from the oven and serve with chopsticks and small ramekins of the paw paw vinegar sauce.
To eat the collar, peel back the skin of the collar to reveal the meat underneath. Remove the meat in bite-sized pieces, dipping them into the paw paw vinegar sauce as a condiment. Make sure to flip the fish collar over when you're done with one side as there are hidden pockets of meat.
Notes
Ideally this is one dish out of a few small plates you can make into a meal. A cup of miso soup and a dish of seaweed salad makes a good lunch of light dinner.