Caramelized Onion Potato Salad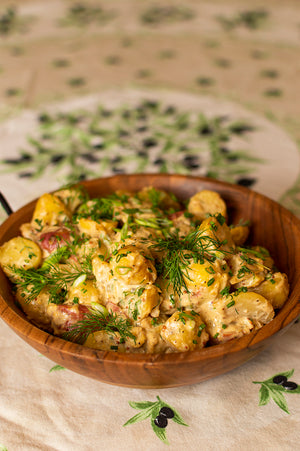 2 large yellow onions, thinly sliced
1 bag petite potatoes
1 cup dressing (see below)
Bring a large pot of salted water to boil
Boil potatoes until cooked through, but not falling apart. Fork tender.
Remove potatoes and allow to cool
Chop potatoes into quarters and toss with dressing
Dressing:
2 large yellow onions
100ml Lindera Farms Caramelized Onion Vinegar
2 tbsp whole grain mustard
1 tbsp Dijon mustard
1 egg yolk
1 tsp salt
1 tsp crushed black pepper
1/2 cup olive oil
1/2 cup canola oil
1/4 cup pecan oil (optional)
Caramelize onions under broiler until charred.
Take 1 cup of the caramelized onions and blend together all ingredients except the oils in a food processor until thoroughly blended.
Slowly incorporate oils until emulsified.
Finishing:
1 sprig dill
bunch scallions (5 or 6)
1 small shallot
3 sprigs parsley
Toss potatoes, shallots, herbs, and scallions with dressing.
Garnish with more herbs and serve.
Show us what you made on Instagram @LinderaFarms with the tag #LinderaMade