Pickle Brine Turkey Breast and Caramelized Onion Gravy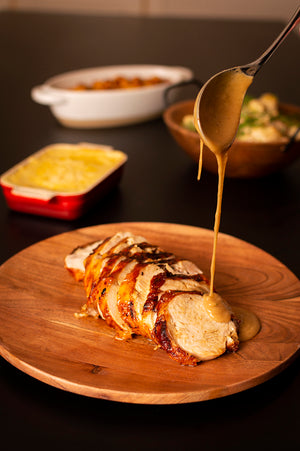 Pickle Brine Turkey
4 cups water
2 oz Lindera Farms Fermented Ramp Salt
100ml Lindera Farms Ramp Vinegar
1 tbsp crushed dill seeds
1 tbsp crushed chili flakes
1/2 tsp ground coriander powder
2 oz kosher salt
1 oz granulated sugar
Bring all ingredients except the vinegar to a boil. 
Remove from heat and allow to cool completely. 
Pour over turkey breast to cover and allow to brine for 12-18 hours in fridge. 
Remove turkey from brine and pat dry. 
Cover with butter or olive oil.
Cook at 400F for 45 minutes or until internal temperature of 165F.
Remove and allow to rest for 20 minutes before slicing.
Caramelized Onion Gravy
1/2 cup caramelized onion stock (see below)
1/2 cup Lindera Farms Caramelized Onion Vinegar
1/4 cup Lindera Farms Applewood Soy Sauce
2 tbsp butter
1 tbsp flour
1/2 tsp black pepper
salt
Melt the butter and whisk in flour until thoroughly incorporated to make a roux.

Allow the roux to brown slightly before adding the stock.

Mix thoroughly, remove from heat, and incorporate vinegar, soy sauce, and salt.
Caramelized Onion Stock
4 small yellow onions, cut in half
two cloves garlic, crushed
1/2 clove star anise
4 oz parmesan rind
Caramelize onions under broiler until charred
Add all ingredients to pot with 8 cups of water
Take onions, star anise, parmesan, garlic, water and bring to boil in pot, then reduce to simmer. Allow to cook for 30 mins. Steep ingredients, strain, and reserve.
Show us what you made on Instagram @LinderaFarms with the tag #LinderaMade